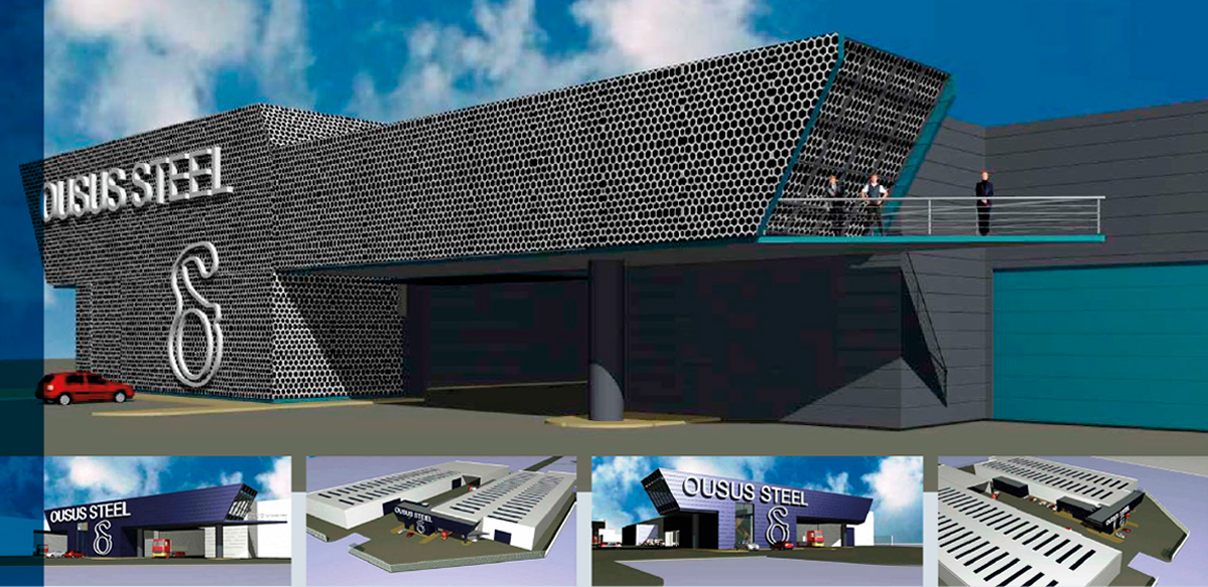 SELFLESS SERVICE WITH A FIRM RESOLVE
Ousus Steel Factory is a Saudi foreign industrial firm with 15 years of solid experience in steel works. Across KSA, we unanimously stand for good service, reliability, and quality products.
Ousus' factory is located at Al-Manakh Industrial City in Riyadh, Saudi Arabia.
It is spread under a covered hangar of 5,000 m2 , where all facilities are accommodated.
All steel works are fabricated in-house without compromising quality of works and abiding by all the safety standards.
Times change, quality doesn't
At the moment, Ousus Steel symbolizes the following:
• High quality products trusted by clients
• Triumph of consistent innovation
• The success of a focused vision
Our personnel receive some of the most rigorous Quality and Safety training in the industry. Ousus is qualified as level 2 ISO 9002 preparation.
As we embark on a new era of innovation, we are realigning our distribution, customer service and support activities in the purpose of achieving superior standards and expanding the focus on high quality offerings
ENVIROMENT ABOVE ALL
All Ousus Steel clients enjoy the value-added benefits of aLEED requirements.
We comply with the highest performance of greed coes, such as using recycable materials of 48% and low COC . All our paint are low VOC and our powder paint is zero VOC.
Green thincking is therefore an integral part of our operational procedures and not looked at as another certification.
People
"A lifetime dedicated to purposeful services"
At Ousus Steel, everything begins and ends with commitment.
Commitment to performance, quality, and results.
Commitment to our team and their individual success.
Commitment today and in the future.
As an investor in its workforce, Ousus Steel recognizes that the quality of its products and services results form a highly trained and motivated team.
People: Our most valuable investment
People who work at Ousus Steel are special.
They bring in high quality and commitment to their work that is rarely seen elsewhere.
Our success as a business derives from creating a culture that provides a motivating and rewarding environment, and we encourage everyone to be part of this experience.

The Ousus Team
Mechanical Engineers
Civil Engineers
AutoCAD structural detailers specifically experienced in metal and steel works
Accountants and cost controllers
120 skilled welders and 30 laborers and painters
All the team members are well qualified and have been working for the company for more than 15 years knowing the way of steel fabrication including high quality and fast delivery schedule.
New and practical ways of solving fabrication and installation problems are thoroughly deliberated to achieve client satisfaction. Thus, our team is backed up with periodical trainings to upgrade its skills while reinforcing them with new computer software, hardware, and technology to meet commitment and excellence.
FACILITY
Our commitment to excellence requires the availability of heavy duty and highly functional machineries, equipment, and tools necessary to carry out the needed work.
Our main equipment includes:
– Press break machines
– Shearing machines
– CNC plasma cutting machines
– CNC punching line + CNC panel bending line
– MIG / stick welding machines
– Automatic conveyor shot blasting machine
– Arc spray galvanizing line
– Powder painting line with 7m long x 2.5 m wide x 3.5 m high booth and oven to accommodate large pieces
– Turnery / lathe / shaping machines
– 8 & 5 tons forklifts
– Air compressors